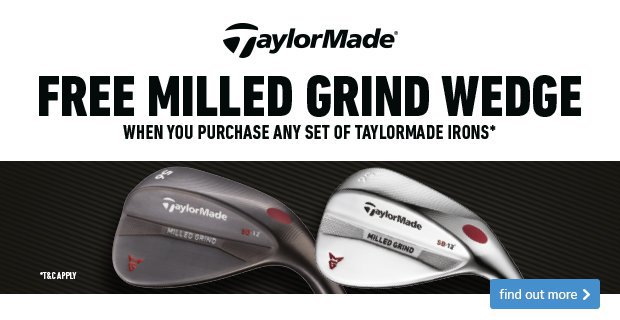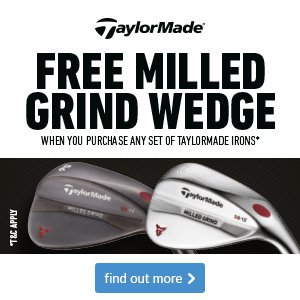 We talk a lot about the importance of being correctly gapped throughout your set so you don't have two clubs that go the same distance or any large distance gaps between successive clubs.
These issues normally arise when a golfer purchases a new set of irons, especially when they are hitting these new irons longer than their previous set.
So, with this in mind, we are offering you a FREE TaylorMade Milled Grind wedge when you purchase selected TaylorMade irons in-store (see below for more details).
Click here to learn more about Milled Grind wedges
These wedges are used by the likes of DJ, Rory and Rahm, making this one hell of an offer.
Come and speak to a member of the team for more information.

Terms and conditions
This promotion is subject to the following rules.

You are 18 or over and are resident in the UK or Ireland;
You purchase a set of 7 or more standard or customer TaylorMade P730, P760, P790,
M5 or M6 irons (excluding P7TW irons) in store or online from the Retailer, at the
retailer's standard price, between 1st June 2019 and 15th July 2019 being the promotion
period;
The free wedges provided will be TaylorMade Milled Grind Wedge in a chrome or black finish. The Retailer cannot guarantee the loft of wedge provided but will provide to your
preference where stock levels permit. A free of charge Milled Grind Wedge will be provided if stock permits.
The free of charge Milled Grind Wedge excludes the Hi Toe range.
You are an individual golfer purchasing the irons for your personal use and are not purchasing it in a business capacity or for a business purpose for example with the intention of reselling the irons or free of charge wedge.
Maximum 1 free of charge wedge per customer.

General points

This promotion is run by the Retailer whose decision shall be final on all matters relating to this promotion.
Nothing in these rules vary, exclude or limit any statutory rights you may have as a consumer.

Membership Information
Are you interested in joining North Foreland Golf Club? For all the latest Membership Information, Read more.......

Society Packages
Follow this link for all our latest Society Packages available. Read more.......

Weddings & Functions
Click here to view all Wedding & Functions news from North Foreland Golf Club. Read more.......

Green Fees
View the latest Green Fee prices. Read more.......

Dates for the diary
Follow this link for all the latest Competition & Club events at North Foreland GC. Read more.......