Testimonials
PGA Professional Alex Blown & North Foreland Member Barry Slater
"Hi Alex,
I just wanted to let you know how I am getting on, as you know in the Presidents Prize NorthCliffe competition I finished third (which I was over the moon with) and I also managed to get a hole in one on the 5th hole, if it wasn't for a poor chip on the 7th, I'd have won the whole thing!
Anyway, I just wanted to say thank you for your help, the minute I put the 7 iron on the ground I just knew it was perfect, the way it looked and the way it felt ... and for the distance, well I've gained nearly 10 yards which is fantastic news!! The extra half inch on the shaft has made all the difference and I'm now striking it out of the middle every time, again thank you!"
Steve Rigden after a fitting with Matt Hart
"Young Matt was very patient, knowledgeable and honest in the club fitting session, and the new clubs are awesome, great service all round"
Dean
"Dear Darren,
I would to take this opportunity to thank you and your team for their after sales care and support, which as always has been much appreciated. After my fitting with you and the subsequent advice you offered me, this has enabled me to reduce my handicap from 12 down to 9.8"

Kind regards.
Dean
Dave
"Darren.
I too, am looking forward to seeing some improvement. I do believe I am striking the ball better and am putting in some changes suggested by Alex. Two stableford scores of 34 this week, so encouraging. Onwards and upwards."
"Hi Darren,
The irons you fitted for me are fantastic! I would not change them for anything, I recently came Runner up in Chestfield Autumn meeting with nett 68/69, I was the only player out of 120 to shoot under par for both days, it was my putting that cost me! I lost by one shot and made it to the regional final of HowDidIDo Morroco Matchplay, knocking out 2 low handicaps on the way, and in most competitions I am consistently shooting around my handicap with top ten finishes".
Tony - After a Custom Fitting session with Darren
"Hi Darren,
Just giving you update on the new irons. I played with them for the first time on Sunday, in a major medal comp! I shot 81 gross 66 nett, came in 2nd place lost to a nett 64!
Putting let me down, but I cannot believe how good these irons feel.
Very happy. Thanks,
Customer had a fitting with Darren for a new Callaway driver
"Massive thanks again mate. Played in the medal at Manston today shot 73 so nett 55. Won the comp and dropped handicap to 16. Hit longest drive of 256 and averaged over 200 on every drive. The driver fitting has really changed the way I can play now"

Glenn Leach
"Hi Darren,

I just wanted to put on record my thanks to Alex for his help with my game. My handicap has dropped from 12 to 9 in the space of a few months and only 4 lessons. He has simplified my swing and given me basic set up drills for all my shots that has really made a difference, I actually now have a plan for what I want to do with the ball!
I set myself a goal of reaching a handicap of 12 this year which I have now surpassed, with Alex's help I am now hoping to set new targets. I have shot my best ever score, won a few prizes and even managed to take some money off Alex at the "beat the pro" hole at Littlestone! All achieved since investing in lessons with Alex which I would highly recommend to all NFGC members.
He has also been working with Harrison and Dylan which has improved their games and given them far more confidence on the short course. The three of us owe him a massive thank you"

Deborah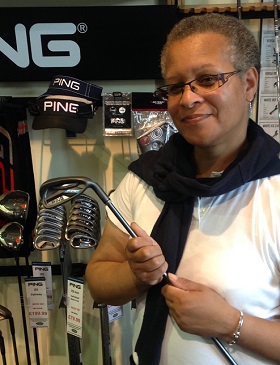 "Dear Alex
Just to let you know that the new custom fit clubs behaved themselves rather well today in competition though I still had a little trouble with the wedges. The Odyssey putter you custom fitted me for has really helped my putting stroke and the irons had the ball flying long and high after our lesson. Very pleased indeed. I managed 33 points stableford with my new handicap - no one managed more points in my section - ground was very wet and heavy - little to no roll out and plenty of excavating! I just wanted to say thanks again for all your advice and assistance and will be recommending you and North Foreland for custom fitting and lessons to all of my golfing friends!! I cant wait to get back out onto the golf course"

Membership Information
Are you interested in joining North Foreland Golf Club? For all the latest Membership Information, Read more.......

Society Packages
Follow this link for all our latest Society Packages available. Read more.......

Weddings & Functions
Click here to view all Wedding & Functions news from North Foreland Golf Club. Read more.......

Green Fees
View the latest Green Fee prices. Read more.......

Dates for the diary
Follow this link for all the latest Competition & Club events at North Foreland GC. Read more.......